---
Save money on all of your activities with our Groupon Promo Code Deal of the Day:
SAVE on all your  activities,  Attractions & MORE!



Always check for current promo codes for additional savings!

Click HERE to see all the deals
Now on to your GreatFrumTrips.com article...
---
… continued from Part 1
Friday morning after davening and breakfast, we took a quick hike to see the "Biggest Tree in Pennsylvania", a short hike away from our campsite
See picture below – look at the size of that trunk!
---
Here's the picture of "Biggest Tree in Pennsylvania", a short hike away from our campsite in Bald Eagle State Park (see picture below – look at the size of that trunk!)
We paid our $20 or so for  the night – you gotta love State Park prices – packed up our RV, and headed out from Bald Eagle State Park in PA, towards our Shabbos destination, a cousin in university Heights Cleveland, OH.
…all-the-while trying to find someone who actually knew a thing or two about trailer tires… (sadly, he didnt, as we'll see again later)

$80, 3 tire shops, and 2 more "new" used tires later….
…we  took the kids to a great park on the shore of Lake Erie.
It was nice, and quiet, but the lifeguards there weren't letting anyone in the water due to rough waves,
…so our kids had a great time in the sand instead.
We spent a wonderful Shabbos with family, and had some delicious waffles and ice cream Motzei Shabbos at:
Elie's Waffles, Smoothies and Ice Cream Shop 
It was delicious and very  reasonably priced, so we treated the kids on Sunday morning before heading out to our next destination: A superb and little-known Amusement Park half way between Cleveland and Niagara Falls, called:
Waldameer's Amusement Park- (Outside link Tznius Alert)
Everyone had a BLAST, and typical of Pennsylvania the ride height restrictions are very generous in allowing youngsters (if at all enforced,) so use your own discretion with what your kids can handle…
In all, there was a  terrific variety of rides for ALL ages from the little ones to the big ones…
This was a cute "spin" on a self-propelled train ride (above)…
And EVERYONE loves a good water flume!
A skyride, bumper cars, boats & more too.
And a trip to a quality amusement park just wouldn't be complete without…
a rickety wooden roller coaster that bounces you everywhere.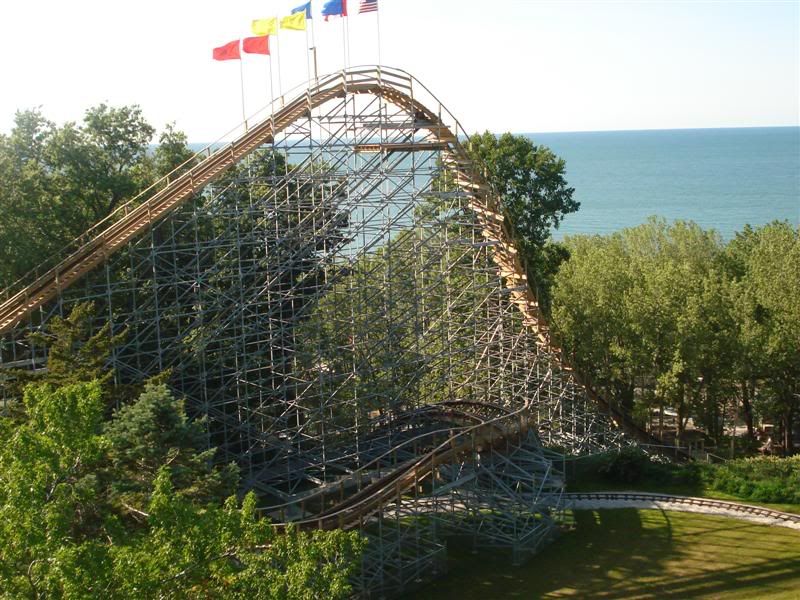 Hang on to your stuff or…
You might lose something VERY important…
Like our CAR KEYS!!!!  (Help!)
We broke in to the car

with our tire changing tools
we had left in the trailer compartment last night

  after fixing the flat and being too tired to store them away in the now LOCKED van-
hashgocha pratis that we got that flat!!
B"H my wife had a spare key in her purse in the car… down to one – we better be CAREFUL!

(and no, we never did get back our keys from them, but thanks to Daniel Bressel from Captain Car Key, our article sponsor, we got a great price on a new set for 2 cars!
(article continued below the jump)
---
We said goodbye to Waldameers,
Davened Mincha, then headed on the road out of Erie, PA,
… toward our next destination, just under 2 hours away in Grand Island, NY
Where we found our favorite place to stay near Niagara Falls –
We HIGHLY recommend:

Where we'll get on to the next 6 days in an upcoming post, where will also take you to some great places in and around Niagara Falls!
To whet your appetite… we'll talk about these pics in our upcoming article, Iy"H…
Still more pics below the jump!
---
Stay Tuned! Sign up for updates and tell all of your friends about GreatFrumTrips.com!
---
LIKE WHAT YOU READ HERE? Sign Up for FREE Email alerts with GREAT new POSTS DAILY!
SAR – GFT
© 2016 GreatFrumTrips.com