---
Save money on all of your activities with our Groupon Promo Code Deal of the Day:
SAVE on all your  activities,  Attractions & MORE!



Always check for current promo codes for additional savings!

Click HERE to see all the deals
Now on to your GreatFrumTrips.com article...
---
Just outside of the Passaic/Clifton community lies a a genuine 1800s castle & observation tower in a 568-acre recreational area, situated more than 500 feet above sea level, providing sweeping views of northern New Jersey and the New York City skyline.
(Click the picture above to enlarge for a sweeping panoramic shot from the castle grounds)
(Click the picture above to enlarge for unobstructed views of NYC in above photo)
Observation Tower
Where, you ask? Tell us more?
So where is this beautiful place?
Garrett Mountain Reservation, in Woodland Park NJ
(Scroll down for Driving Directions and Attraction Details)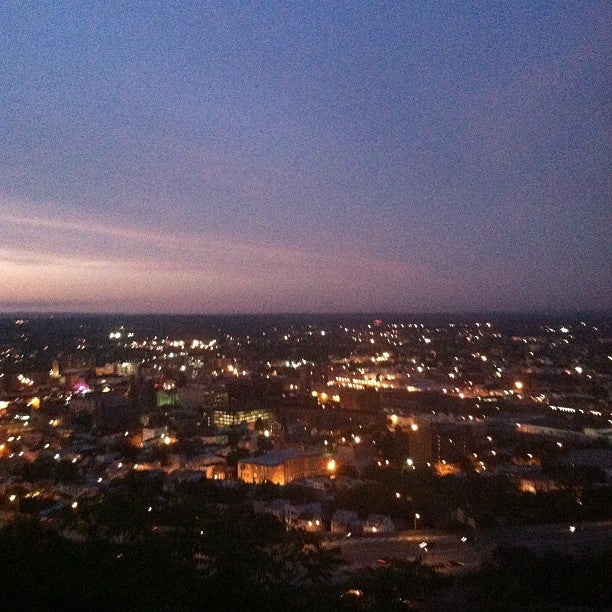 This beautiful park, operated by the Passaic County Parks Department, offers park visitors a wide range of recreational activities and facilities.
---
(GreatFrumTrips.com exists with the support of our Advertisers. Please utilize their services - Thanks!)
---
Continuing with your article...
Some of  facilities include:
An Equestrian Center (details in this LINK)
At the Equestrian Center, residents can take horseback riding lessons, pony rides or ride on the park's bridle paths. Click this LINK for pony rides and the horseback riding details.
Fishing Pond
Picnic Areas with views
Jogging paths & trails for hiking & guided horseback trail riding
Gravel & paved roads for running and biking

(This tiny interruption can save you $ too...)Try Amazon Prime FREE!
GreatFrumTrips.com continues...
Multiple open fields for frisbee, ball playing, or just running around

Lots of wildlife that we have seen on every trip
Including wild turkeys
Lots and lots of deer
And beautiful wood ducks and waterfowl can be seen on the pond (check out the fish in the left duck's mouth!)
There are lots of cliffs along the upper ridges for those more intrepid folks, (but if cliffs are not your thing, there is so much to do and see that you need not even venture over to them)
If you are into bird-watching, the NJ Audubon Society calls Garrett Mountain a "Significant Migratory Stopover"
Added BONUS: 3 nearby airports have major airplane traffic lanes overhead, so if you or your kids are into airplanes, this is a great place
…Ok, I'm sold, but tell me how to get there!
Name: Garrett Mountain Reservation
GPS Address: 3 Valley Rd, Paterson, NJ 07503
Phone: (973) 247-0085
Website for the Park: WEBSITE LINK
Website for the Castle:WEBSITE LINK
Website for the Equestrian Center: WEBSITE LINK
Tried and Tested: Yes!
Recommended for: All Ages!
Worth traveling an hour for? Your call, but this is a unique spot, especially if combining it with the Great Fallsas in the HIKE below
Distance from Passaic/Clifton: Approx 7-9 Min.
[mapsmarker marker="50″]
Details about exploring the castle interior (fee area):
Lambert Castle and its Observation Tower, two of Passaic County's many historical treasures are also located in Garret Mountain Reservation. Lambert Castle and the Observation Tower are now open to visitors.
Lambert's Castle Museum Hours & Pricing:
Adults $5 / Children 5-17 $3 /  Under5 FREE

Regular museum hours (early September through late May):
Wednesday through Sunday, 1 to 4 p.m.
Summer hours (late May through early September):
Wednesday through Sunday, 12 to 4 p.m.
---

Castle History:
Lambert Castle was built in 1892 as the home of Catholina Lambert, the owner of a prominent silk mill in the City of Paterson. Constructed in the Medieval Revival architectural style, Mr. Lambert's dream was to build a home reminiscent of the castles in Great Britain that he remembered from his boyhood years. President William McKinley and Vice President Garret Hobart visited the castle in 1898.
After Lambert's death in 1923, his family sold the building to the City of Paterson, which in turn sold it to Passaic County a few years later. Passaic County used the building for administrative offices, and in 1936, provided one room to the fledgling Passaic County Historical Society to serve as its historical museum. As time went by the museum grew, room by room, until the entire first floor became the historical museum.
In the late 1990s, the Castle underwent a multi-million dollar restoration and all four floors of the building were developed into a museum and library.[3]
---
Your Amazon purchases keep our site up, Thanks!
- GreatFrumTrips continues...
Here's a GREAT HIKE in and around the park you can take
– The hike also incorporates the Great Falls (Future article Iy"H) if you want to add that in (optional): (courtesy of http://gonehikin.blogspot.com)
HIKE SUMMARY:
[  0.00 Miles]  From Lambert Castle parking lot take Morris Canal Greenway trail up to top of mountain
[  0.15]  At the top with the observation tower on the left, turn right on Morris Canal Greenway/yellow trail
[  0.35]  Short side trail on right uphill to views
[  0.55]  Trail turns left, comes out on field, skirts around field to the right
[  0.65]  Turn right on white/Morris Canal Greenway when yellow goes straight
[  1.00]  Right on Morris Canal Greenway when white goes left in ravine
[  1.30 Miles]  Morris Canal Greenway ends at Caldwell Avenue – either retrace  for a 2.6mile loop or…
This is how you would incorporate Paterson Great Falls adding about 1.9 miles:  Turn right on Caldwell Avenue, right on New Street which crosses over I-80, left on Grand for 1 block, right on Hoxey for 1 block, right on Mc Bride.  At intersection where Wayne Avenue goes left and McBride turns right, cross straight over McBride to the pedestrian walk over the Passaic River to the falls.  According to Google Earth, this would be .7 miles from where the Morris Canal Greenway ends at Caldwell Avenue.  Another .5 mile to circle around for full views of the falls then .7 miles back to pick up the Morris Canal Greenway at Caldwell Avenue back to the white trail.
[  1.60]  Back at the ravine, turn right on white when Morris Canal Greenway goes left
[  1.75]  Turn right on yellow when white goes straight and yellow comes in from the left
[  2.00]  Cross paved park road, veer right to break in guardrail with yellow blaze
[  2.10]  Barbour's Pond
[  2.40]  Keep left on yellow at fork
[  2.55]  Yellow leaves paved path to the left behind shelter
[  2.75]  Abandoned picnic areas on left
[  2.90]  Cross paved road on gravel path then keep straight on white when yellow turns right
[  3.50]  At T-intersection when white goes left, turn right on unmarked to The Rocks
[  3.60]  Turn left on unmarked at intersection, The Rock on the left
[  3.70]  Turn left on unmarked at intersection, The Rock on the left (straight ends in Overlook Meadow, will be returning that way)
[  3.75]  Keep straight on white when white comes in from the left
[  3.90]  Cross paved park road
[  4.00]  Turn right on yellow when white goes straight
[  4.30]  Cross parking lot at communications tower
[  4.40]  At Benson Memorial (tank) turn right and cross paved park road, continue across Overlook Meadow with picnic shelter on left
[  4.55]  Continue on woods road at the other side of Overlook Meadow
[  4.60]  Back at the intersection at The Rocks, keep straight on unmarked
[  4.70]  Turn left at T-Intersection on unmarked
[  4.80]  With observation tower straight ahead, turn right on paved path and continue right along parking lot; continue on unmarked path parallel to park road
[  5.30]  Turn left on yellow, cross paved park road, continue on yellow around stables
[  6.00]  Observation tower
[  6.15]  Turn right on Morris Canal Greenway and descend to parking lot
[  6.30 Total Miles Incl. Return]  Back at parking lot
Picture above of is of the Great Falls mentioned in the hike details above
Whatever you choose to do here, most of all, HAVE FUN!
---
LIKE WHAT YOU READ HERE? Sign Up for FREE Email alerts with GREAT new POSTS DAILY!
SAR – GFT
© 2016 GreatFrumTrips.com
Find this attraction and all of our other attractions and more on the exclusive GreatFrumTrips.com Map by clicking HERE
---
BEFORE You Go - Are You Covered? GET Travel Insurance. It's WORTH IT! 
 Kids under 18 are covered for FREE! Get a free quote.
Cancel your trip for any reason with Travel Guard Find out more
Allianz Global Assistance Travel Insurance Get a free quote.
Medical Evacuation Coverage Yes. You're covered!
---