---
Save money on all of your activities with our Groupon Promo Code Deal of the Day:
SAVE on all your  activities,  Attractions & MORE!



Always check for current promo codes for additional savings!

Click HERE to see all the deals
Now on to your GreatFrumTrips.com article...
---
What do you do when you have so much money, you don't know what to do with it?
Buy land the size of a city and build the most beautiful park-like estate on it, of course!
J.B. Duke, a 19th century tobacco conglomerate, purchased this incredible tract of New Jersey land and transformed more than 2,000 acres of farms and woods into a beautifully landscaped estate in the late 1800's.  (postcard above c. 1915)
He excavated nine lakes, constructed some 45 buildings, and built nearly 2 ½ miles of stone walls and more than 18 miles of roadway in the estate.
He also installed approximately 35 fountains and populated his property with countless pieces of sculpture, trails and waterfalls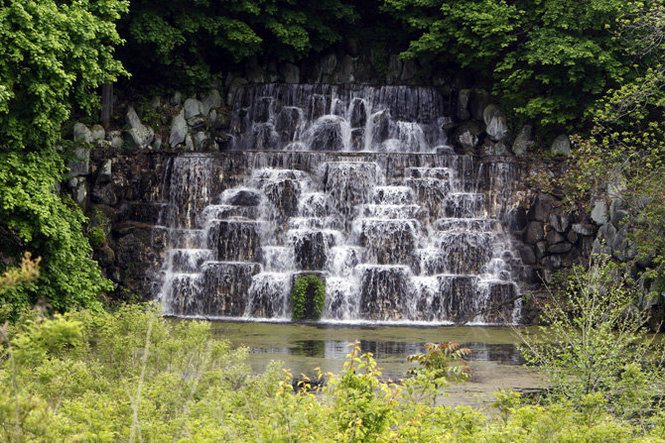 Much of the landscape J.B. Duke created between 1893 and 1925 is still clearly evident at Duke Farms, a testament to his incredible wealth
In the late 1990s, Duke's daughter, Doris, who had expanded the estate to an astounding 2700 acres, left the gigantic property, along with a humongous trust fund, to create the beautiful park there is today – FREE for the public to enjoy!
Ready to go? Attraction Details coming right up!
Fall Foliage at Duke Farms
An indoor Orientation Center with educational videos, maps, friendly staff and recommended hikes and walks to take,
Multiple conservatory buildings you can explore
A beautiful and dramatic sunset photo at a sunflower field within the estate
They also have have an eagle nest, and a series of Eagle Cameras on their website, through which you can see the life cycle of the eagles up and follow their progress each close each season.
The giant clock tower is NOT the family mansion – it is one of the barns on the family property (the mansion itself is closed to the public, but you can imagine its size if this is the barn!)
With so many lakes and fountains within the property, you will most likely see painted water turtles….
other wildlife…
…and if you're lucky, maybe even a snapping turtle like the monster in the above photo
Bring along the bikes!
I know of no other place with so much great space to bike on – get a map at the orientation center and go on in!
Bikes can also be rented at the Orientation Center for $5 person, but on busy days they may be all out. Note: There is a 60″ minimum height requirement though, so for the kids bring the bikes along.
Stop by at their incredible orchid garden…
And check out the interior – it's almost surreal…
With platforms, bridges, tropical mists and a stream with fish
There's so much to explore in this place – you'll definitely want to come back again  – especially for the great price.
Explore another area…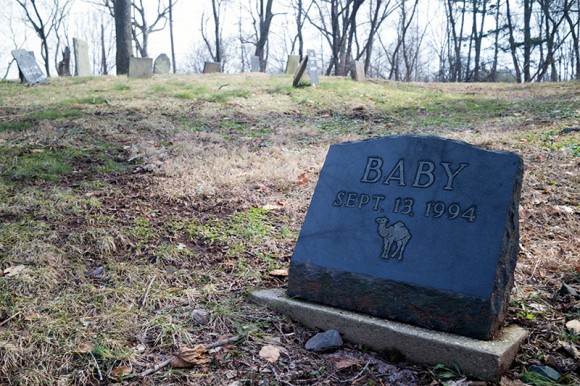 Like this pet cemetery deep on the grounds, where Doris Duke, heiress to the estate buried her favorite pets, like the camel above
Too much walking?
Take the convenient tram (FREE) to multiple areas to start a tour, or to get back to the Orientation Center and parking lot when you're done!
So where is it? And how do you get to explore? Read on!
ATTRACTION DETAILS:
Name: Duke Farms

GPS Address: 1112 Dukes Pkwy W, Hillsborough Township, NJ 08844

Phone: (908) 722-3700
Click the map below for location, driving Directions and More.
Website for the Park: WEBSITE LINK
Tried and Tested: YES
Recommended for: Families, couples,  all ages
Worth traveling an hour for? We give this one a resounding yes!
---

Great Frum TIPS:
– NOTE: The park is
CLOSED on Wednesdays
– Bring the bikes along, or rent them cheaply there
– Stop in the Orientation Center first and watch a free 10 min. video all about the place
– Borrow a Free Binoculars Kit for use within the park (deposit required, returned upon return of the kit)
– Wear comfortable walking shoes – there is alot to see
– Bring along a travel Sukkah for Sukkos &  a picnic (no BBQ's allowed on the property)
Most of all HAVE FUN!
---
Looking for other incredible deals you can do TODAY?
Check out our Incredible LIST of TRIP DEALS HERE!
Most of all, have fun!
——————————–
LIKE WHAT YOU READ HERE? Sign Up for FREE Email alerts with GREAT new POSTS DAILY!

SAR – GFT
© 2016 GreatFrumTrips.com
——————————–
GreatFrumTrips.com is a TREASURE TROVE for Jewish Families, and is growing EVERY day!
New attractions and information posted daily…
PLUS:
All the Resources the Web has to offer in ONE place, including:
Worldwide Kosher Food Directory
Wordwide Minyan Directory
Wordwide Mikvah Directory
Wordwide Index of Acceptable Kosher Symbols by the CRC
Attraction & Day Trip Ideas (growing every day)
Informative Trip Reports
Hilarious True Travel Fiasco Stories
Shidduch Dating Places
Travel Products we've used, tested, recommend & love
Chol Hamoed Trips
Chol Hamoed Ideas
Chol Hamoed Trip Places to go
FREE PLACES, Great Deals on Attractions
NEW! Online Kever Directory of Kivrei Tzadikim to Daven at
NEW! Comprehensive Listing of all area Kosher Hotels
NEW! Comprehensive Listing of all Kosher Getaways, Kosher Vacations, Kosher Shabbos Programs, Kosher Conventions & More!
Enter your email below, and get a FREE post each day of great attractions for frum families! Now also GreatKosherTrips.com and GreatJewishTrips.com
GreatFrumTrips.com, and get a FREE post each day of great attractions for frum families!
Advertise with us, and your ad can be seen by THOUSANDS!